The month of pumpkins is upon us! Drive down most roads and you'll see pop-up pumpkin patches all around. This is the season of collecting and carving and this is ALSO the season where organic waste is at one of it's highest points all year long.
1.3 billion pounds of pumpkins end up in landfills around the country every year! In fact, organic waste, like pumpkins, excess food from holiday parties, and yard trimmings, is the largest contributor to landfills. A 2012 Yale Research Team found that 21.4% of what is dumped into landfills is organic waste. The EPA estimated an even higher rate of 34.5%! 
The decomposition of organic materials in landfills produces methane, a greenhouse gas with global warming potential approximately 85 times higher than carbon dioxide over a 20-year time period. Landfills are one of the top emitters of this potent greenhouse gas in the United States! This season it is time we all do our part to divert organic waste and at Atlas we've found the perfect solution, nutrient rich COMPOST.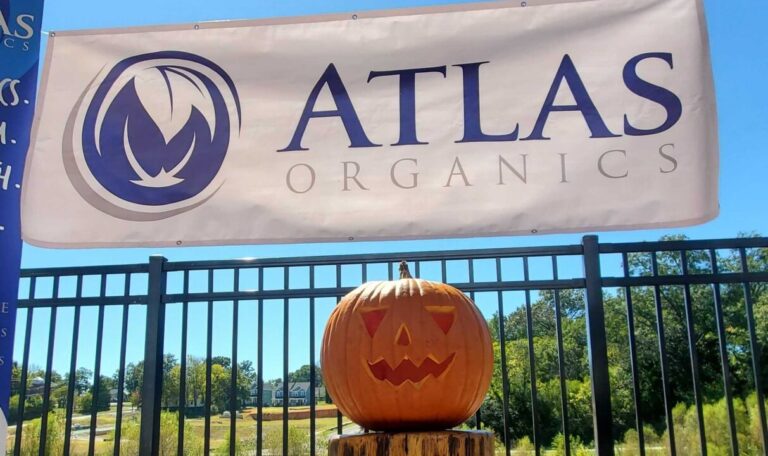 Collect, Carve, and COMPOST!
This year is the perfect time to add a new tradition to your family's Fall fun. The pumpkin activities don't have to end with carving jack-o-lanterns and displaying them for all to see. Once Halloween has come and gone, those same pumpkins can actually become a perfect ingredient for making compost. Compost is created with a mix of both food waste and yard waste and at composting sites, like the ones Atlas Organics operates, pumpkins can play a big role in the process.
Due to their size and tough skin, pumpkins typically take a longer amount of time to decompose in composting piles. (They also LOVE to roll around composting sites when dumped which is quite the spectacle 😉) A simple solution? SMASH them!
This year Atlas Organics is excited to be hosting two pumpkin smash events in the Upstate of South Carolina, with hopefully more to come in the future! We weren't kidding when we said the fun doesn't have to stop at carving. Smash events provide a place to bring pumpkins while joining in on the movement to divert waste and save our environment. If you're in the Upstate, we would love to have you join us this year on November 5th. More details can be found HERE.
You can also smash those pumpkins at home and either toss them in your backyard composting bin or find a local compost facility in your area that can receive them!
To learn more about this year's Pumpkin Smash and Pumpkin Drops presented by Atlas Organics, click HERE. 
To better understand the impact that food waste has on our environment check out this free download.